This is article appeared on the BookCountry blog and provides a great list of books to help us improve our writing before we even reach out to an editor. However, everybody puts Steven King's
On Writing
on lists like this and I, personally, did not find it particularly interesting or engaging. Your mileage may vary.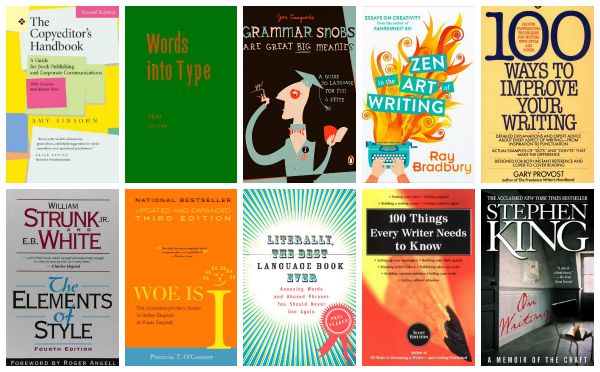 Books on Grammar Guidance
Worried your writing is rife with grammar and spelling errors? These great guides will help you polish your work.
Books on Writing Basics
Any novice writer who needs help on the basics, or simply some brushing-up on the craft, should check out these easy-to-absorb guides.


100 Things Every Writer Needs to Know by Scott Edelstein: A wide-ranging introduction to the building blocks of the craft and business of writing, from finding your voice to getting an agent, written by a writer, editor, and literary agent.


Zen in the Art of Writing by Ray Bradbury: A series of essays by the science fiction bestseller Bradbury that will leave you feeling empowered and ready to write.


100 Ways to Improve Your Writing by Gary Provost: A classic, well-loved writing guide that presents quick and easy-to-implement tips on writing.


On Writing by Stephen King: Both an inspiring memoir and instructional guide to craft, this book will get you ready to take the leap into writing.


What are your favorite books to help improve grammar and writing basics? Share in the comments below.
You can also always consult the Book Country community on the
discussion boards
if you have a question about grammar or writing basics.
About Meg LederMeg Leder is an executive editor at Penguin Books. She's worked with a range of nonfiction authors, including Keri Smith, Johanna Basford, Tyler Knott Gregson, and more. She's also the author of THE MUSEUM OF HEARTBREAK (Simon Pulse, May 2016), as well as the co-author of THE HAPPY BOOK and other titles. Connect with Meg on Facebook and Twitter.
via
10 Books to Help Improve Grammar and Writing Basics - Book Country Blog